Launching a new website is easy. Launching a successful new website, not so much! There are so many things to get right, and so much opportunity for things to go wrong. That's why we've created this, the ultimate website launch checklist, in the hope that it will alleviate a little of that pre-launch stress.
Whilst there's absolutely nothing stopping you from creating your own website from scratch, in our experience, the most successful new websites utilise professional website design and development specialists.
Since 2006 we have helped countless local businesses, charities and large international companies expand and grow their brand. From web design and SEO to pay per click (PPC) marketing, content and social media, we have the experience and expertise required to create a strong online presence for your business.
To discuss your digital journey with a member of our team call us today on 01403 261491, or complete our online contact form and we'll be in touch at a convenient time for you.
What to consider before you start your website build
There are so many factors to consider in order to maximise your chances of a successful website launch. Before we look at the pre-launch checks however you should consider the following:
Branding
Strong branding is essential to the success of any business, and brand unification is key, whether you are relaunching or refreshing an existing website or brand, or launching a completely new brand identity. That means that your brand should clearly represent your purpose, vision, mission and values.
Website purpose
For a business, the purpose of a website is to convert traffic into sales prospects. From an individual perspective, a website may be used as a platform to express yourself, a space to showcase your personality and views. Consider the intended purpose of your website, and exactly what you would like to achieve from its launch.
Target audience
Based on your intended purpose you can now consider who you believe to be your target audience. Are you focused on business to business sales (B2B), business to customer sales (B2C) or something else? Remember, your intended target audience should influence your tone of voice and vice versa.
Tone of voice
The words you choose to use, and the way in which you use them will ultimately become the tone of voice for your brand. This applies to all of the content you deliver, from social media posts and website content to emails and other literature. A consistent tone of voice will help to build trust and confidence from your target audience.
Site architecture
Finally, take some time to consider your website architecture. How do you want to organise and deliver your content? This may vary depending on the intended purpose of your website, so remember, your site architecture will directly influence user experience and ultimately the success of your new site launch.
Website launch checklist
You never get a second chance to make a good first impression. This is as applicable to launching a new site as it is to everyday life – so before you push the button make sure you've carried out the following pre-launch checks:
SSL certification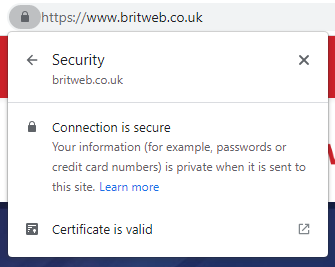 An SSL certificate (Secure sockets layer) enables the encryption of your site keeping your data secure, and verifying that you are the owner of that site. It can in most cases be obtained for free, and without it, visitors to your site may be advised that the connection is 'not secure' – not a great look regardless of the purpose of your website.
HTTPS traffic

In much the same way, enabling HTTPS traffic (HyperText Transfer Protocol Secure) ensures the security of all the data going back and forth from your site. Without it, visitors to your site will be again advised of the insecurity of their connection – likely damaging your brand image before your target audience have even reached your site!
Site usability testing
The overall usability of your site will have a huge impact on the perception of your brand by your targeted audience. Use the following checks to ensure the coherence and usability of your site:
Image optimisation
Optimising all your images for speed will ensure that your audience isn't going to leave because your site took too long to load. Images should be a fixed height and width for optimum performance on the site; this should be responsive so that they adapt to different devices and screen sizes. Use tools such as tiny.png for compressing imagery, or save for web on Photoshop to reduce the file size of images before uploading to site.
Check the website on mobile devices and tablets
So your website looks great on your desktop. Job done? Unfortunately not, chances are that your site will need to be re-configured to work on mobile phones and tablets. Make sure to manually test your site on different devices to ensure that it is displayed as you would like it to be, as well as being easy to navigate. This is important now more than ever, as Google is now taking a 'mobile first' approach, meaning if your site isn't responsive, it will hurt your rankings in search engine result pages.
Cross browser checks
You could be forgiven for thinking that your site will display in exactly the same way across all of the different browsers. Again, the reality is that your site may not. Avoid losing any potential traffic by checking browser compatibility across the big 5 – Chrome, Safari, Internet Explorer/Edge, Firefox, and Opera.
Site navigation and internal links
Dead or broken links and unusable navigation menu's are another sure fire way to put off any potential traffic. Check both internal and external links and rectify any issues before launching. If you are migrating from an existing site, it is important to map your redirects to ensure no links are broken when your new website goes live; there's nothing more annoying for a user than getting a 404 page, and this isn't ideal for SEO either.
Proofreading and content checks
Use your content management system to check all content for errors in grammar and spelling as well as inconsistencies within your copy. Your content should be easy to read, engaging and a reflection of your brand (see tone of voice).
Search engine optimisation (SEO)
A website's SEO will contribute greatly to the levels of organic traffic. SEO components include:
Accessibility
Indexability
Off-site ranking factors
On-site ranking factors
Audit your technical SEO implementation to give yourself the best chance of being found in the results pages.
XML Sitemap
An XML sitemap is a file that tells search engines which pages on your site should be indexed. Essentially it is a list of all of the pages on your website which you would like to be shown in organic search results. Third-party tools such as YoastSEO can generate these for you if you have a WordPress website.
Robots.txt File
Similar to a XML sitemap in that a robots.txt file gives search engines a directive to follow, a robots.txt file shows search engines which areas and pages of a website that it should and shouldn't crawl and which user agents it will allow doing so. This is a technical file which if incorrect can have a detrimental impact on the performance of your site so best left to the experts.
Legal compliance
This cannot be stressed enough! Make sure you are legally compliant. A small investment to speak with legal counsel at this stage could save you a considerable headache in the long run!
Security
Make sure your site is secure and spam free before launching – there are numerous free and paid plugins available. This will not only reduce the risk of hacks or data breaches but improve the credibility of your site.
SEO plugin configuration
SEO plugins, Yoast SEO for example, are an easy way to optimise your content, boosting your chances of being found on search engines. SEO plugins analyse the content on your site and provide suggestions as to how it can be improved, focusing on areas including:
Relevant keywords (Your focus keyword should have been identified by your keyword research)
SEO title
Meta descriptions
Readability (Natural language processing)
This is an opportunity to review your web pages to ensure that nothing has changed since launching your site. Take another look at your SEO components to ensure that all page titles, meta descriptions, and URLs appear and are accurate using tools such as Screaming Frog.
Analytics platforms
Setting up Google Analytics to monitor website traffic will enable you to analyse how your audience engages with your content as well as how your site is performing overall – this information is invaluable and can be used to continuously improve your website's performance.
Test user experience (UX)
Take some time to browse your website from the perspective of your audience. Does your link structure work efficiently, are pages opening without unreasonable delays, are you funnelling visitors through your sales funnel? If the answer is no, take immediate action to rectify.
Calls to action
Your website serves a purpose for your business, whether it is to encourage people to call you or visit your store or, purchase items or services online. This should be clear on every page of your website as to what next action you'd like a user to take. Make sure your calls to action are clear and easy to follow.
Website post launch checklist
So, your site is live and generating traffic. Time to sit back and relax? Not quite yet, there are still a number of things you can do to ensure your site attracts as many visitors as possible. Post launch it's a good idea to double check everything went smoothly:
Check your site is secure
Check your site is working as expected
Test all calls to action and test forms, transactions and buttons
Check your Google Analytics is working correctly and annotate the date of launch
Check there are no post launch SEO errors by crawling your site
Test and submit your sitemap to Google Search Console
Check your robots.txt is working as expected
Check all redirects are working correctly
Monitor its performance over time and review any nuances
Website promotion
Promote promote promote. This stage is ongoing, and the attention and time spent promoting your site will be the difference between blending in with the masses, or standing out from the crowd. Think:
SEO
Email campaigns
Paid advertising
Social media
Speak to our team about a free website quote
To find out more information about any of the checks mentioned in our comprehensive website launch checklist, or for a free, no obligation quote for the planning, design, development and digital marketing of your website get in contact with our team today by calling 01403 261491. Alternatively, you can email us with your proposal at info@britweb.co.uk.
We specialise in:
Web design and development
E-commerce websites
SEO and digital marketing
Take a look at some of our case studies for an in-depth view of what we are able to achieve for your business.