Digital and graphic design services
Take your brand's visual identity to the next level and stand out online and in print with high quality, impactful graphic design. Attract your target audience with bespoke logos and web design, adverts, social media posts and email templates that showcase your story.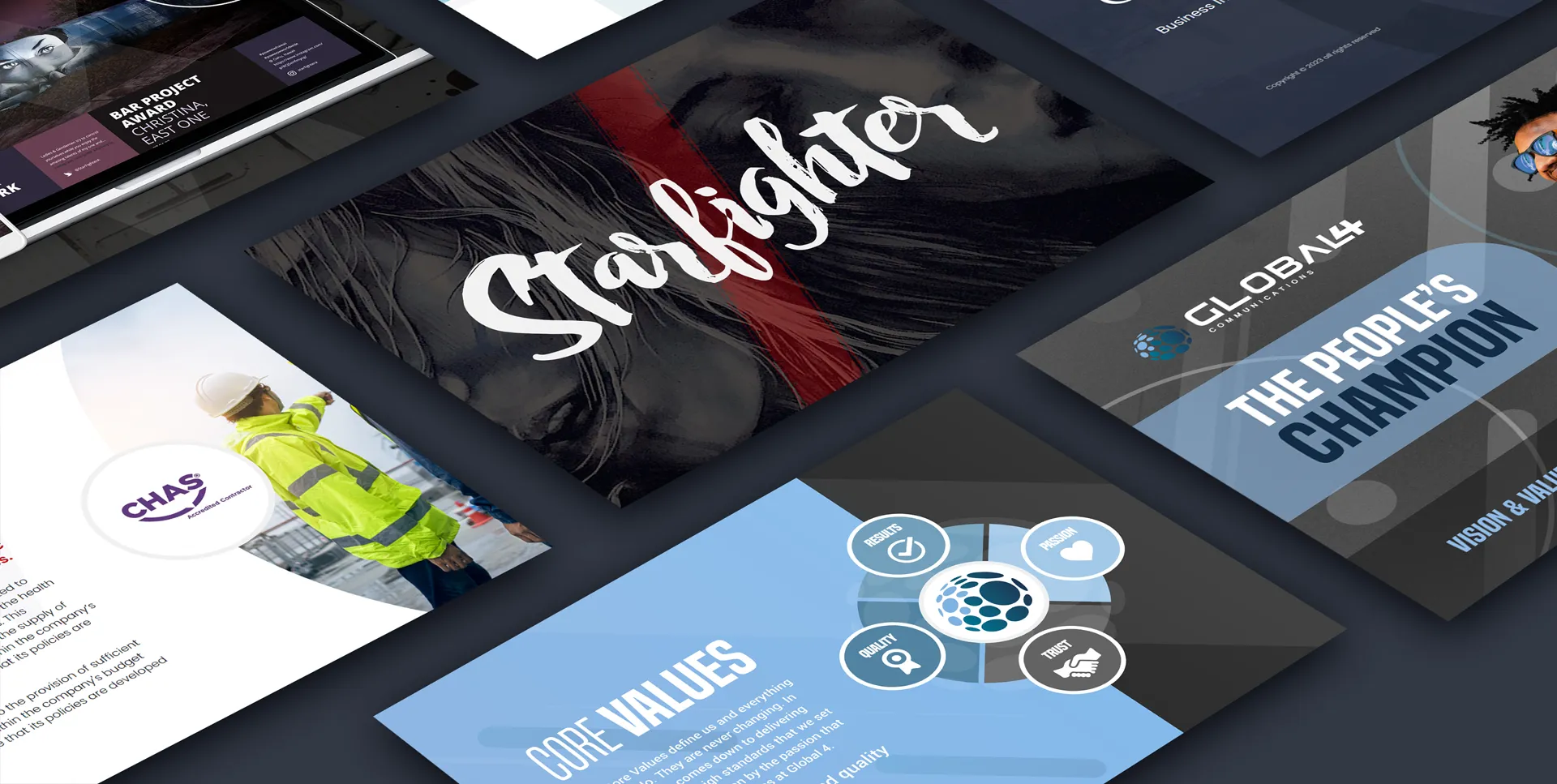 Powerful designs built for your success
Visual communication creates a lasting impression between customers and a business, and there are many benefits to investing in graphic designs that reflect your brand, promote your services, and add value.
With so much competition, high quality designs that are eye-catching and elevate your brand are essential for long-lasting success. Our graphic designers will tell the story of your brand to ensure it's memorable and targeted for your customer base – from colour palettes to imagery, layouts and messaging.
Professional branded designs can;
Increase brand recognition and loyalty
Boost sales and leads
Strengthen your brand's messaging
Enhance your customer's journey
Make you stand out as a leader in your sector
Run profitable sales campaigns
Our graphic design and digital design services
Whether starting a new business or planning for growth, graphic designers using state-of-the-art, industry leading digital tools combined with their creativity can get you noticed.
From first impressions of your brand to aspirational landing pages and custom graphics, our expertise and design work can boost your profile.
Working closely with you to understand your brand and requirements, our creative team will produce designs for your feedback, work on any revisions and provide signed-off designs in the best format for your project.
As a web design and digital marketing agency, our talented team can create content for your website, blog, social media platforms and adverts, ensuring a cohesive brand identity across your different consumer touchpoints. Our range of skilled experts across design, development and digital marketing allow us to be your full service agency, working on enhancing your complete identity to acclerate your success.
Our services include:
Web design
to create stunning websites and web pages that rank in search engines, convert and offer a memorable customer journey
Logo design and branding
to launch or refresh your business for a modern audience
such as profile imagery, posts and infographics to engage with your followers and enhance your reach
Email marketing materials
to improve sales and effective communication with your email lists
Online promotional materials
including corporate brochures, web banners and pop up ads
Offline promotional materials
including print adverts and brochures with clear call to actions
Research led, user friendly digital design
Our graphic design team utilise tools such as Adobe Illustrator and Photoshop for our graphic design projects and create digital designs that can be rendered in a number of different formats, optimised for their purpose. We have access to high quality stock imagery should you require it and have excellent photo editing skills.
All of the assets we create benefit from our years of experience and our web design work is SEO friendly with UX as a core focus in how we develop websites. Designs can be viewed in specialist software that allows you to easily make tracked revisions and ask any questions, promoting a collaborative process.
FAQ
How does the design process work?
Once you contact us with your graphic design project our team will take the time to understand your business and research your sector before starting work on developing custom designs. A graphic designer will then submit a mock-up design based on your requirements, ready for you to provide feedback. We will then work with you to make revisions until you are satisfied with the final design.
Throughout our graphic design work, we will be transparent about the work being undertaken and are able to work to tight deadlines. Our work can also be flexible – we understand the demands of running a business and that you may not always be able to feedback straight away.
Why is design work and branding important to businesses?
Design work and branding – everything from a logo to creating a website – is part of a company's marketing strategy to engage and convert customers. It's essential for it to be effective, cohesive and that it stregthens your business identity. When designs and branding aren't thoroughly considered and professionally managed, it's easy to lose your brand tone and get lost amongst your competitors.
Truthfully, designs and branding can make or break a business – it's important for them to be carefully crafted and maintained over time to ensure brand recognition and loyalty.
Do I already need a website to use your services?
No, you don't need an existing website or even an existing brand identity to use our graphic design and web design services. Many of the clients employ us to design brand new websites or logos and assets when they are starting a business, or first venturing into the online space.
Our design services also don't need your business to be online at all as we can produce print ads and brochures for companies that operate offline.
Why choose Britweb?
Our open and honest approach means that we'll work closely with you to get to know your brand and come up with ideas that are both complementary to your business objectives and eye-catching.
Our Sussex based team are always up-to-date with the latest trends and will create inspiring visuals that will excite, convert and enhance, meaning you can rest assured our work will deliver fantastic results and ROI.
We can also provide your website with hosting to ensure it runs smoothly and securely, as well as offering ongoing technical support.
Professional and innovative design work to engage your audience
A robust and effective design process with a collaborative approach
Stunning web design with UX and SEO at the forefront
Branded marketing assets to help your business grow
Let's start a conversation