We're proud to launch a new support portal for our clients to help them make better use of their website and support hours.
This month, BritWeb's WordPress clients can benefit from the launch of our support portal. The new platform has been developed to give our clients a range of tools to help them easily make quick changes to their website without having to wait for developers input.
For a monthly fixed fee, the BritWeb support service gives our clients unique access to their own dedicated area, designed to help them update pages, posts and imagery on their website. The service is aided by the BritWeb support team who will ensure that our clients websites are properly maintained and supported, meaning it's kept secure and running at peak performance.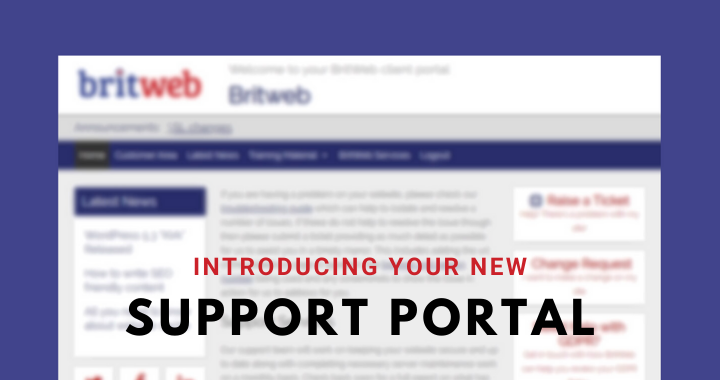 What's included in our clients support package?
In addition to our clients having access to this unique portal, our support team manage the below for our each website we support:
WordPress version updates
Plugin updates
Daily cloud backups
Backup restorations
Site security
Uptime and problem monitoring
Monthly site report
Malware removal
Web hosting
SSL Certificate + set up
Tech support
What's changed?
Historically, we have spent a lot of our clients allocated support package making changes to content on their site, which could be easily done if our clients had the relevant know how.
WordPress is constantly changing, so outdated versions could put a website at risk of hacking or malware. Our priority is to ensure the performance and efficiency of our clients websites is not compromised and is technically managed to the highest standard.
Therefore, content changes now fall outside of our standard technical support and hosting package and are completed via a change request within the client portal.
Need further assistance?
All of our current support clients can request training free of charge to understand how to make content and image changes to their website. Simply contact us via support@britweb.co.uk to arrange a time that suits.
The cost of our support and hosting package is frozen for all current clients until January 2021.
Support portal
This is a significant upgrade to the way we support our clients and represents our commitment to ensuring their continued success.
What's in the new support portal?
Training materials
Website tips
Details on our additional services
Our latest news and key web developments
Your website's servers update logs
The ability to raise support tickets
How we add value
Some of our support work takes place in the background. These key stats showcase the ongoing work of our support team and our commitment to the smooth and secure running of our clients' websites.
What an average month looks like:
120 support tickets closed
Maintenance and monitoring of 20 servers
Server downtime monitoring running 24 hours a day
Daily checks per server for software updates and patches
More than 200 WordPress sites monitored
Managed updates to more than 100 WordPress plugins
1 core WordPress update rolled out to all sites
Roughly 160 hours spent updating WordPress, Plugins and Themes
Around 21 hours blocking malicious traffic to keep all our sites running
Furthermore, every year we add two additional servers for hosting.
We'd love to hear from you
If you have any questions about our new support structure and portal, please get in touch with our team to discuss. If you are interested in our support and hosting package, then please contact support@britweb.co.uk to discuss your requirements further.