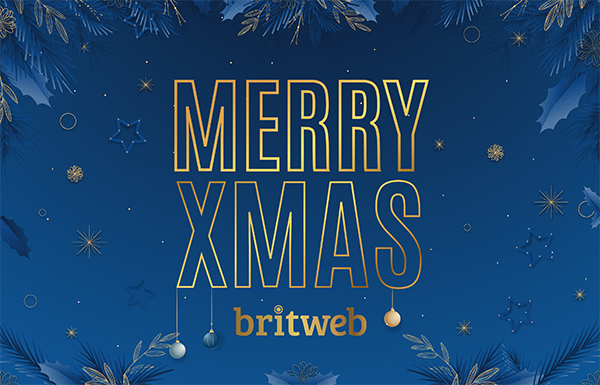 What an extraordinary year it has been! Firstly, we'd like to say a huge thank you to all of our clients for their loyalty, support and ongoing business this year. We appreciate you and we are looking forward to working with you all in 2021.
This year has been different; we've all had to face challenges and learn to adapt. Like so many the whole Britweb team has been working from home since March. We've been able to continue working together whilst being apart with daily team meetings and of course, have enjoyed a Zoom quiz or two together.
The whole Britweb team would like to wish you all a very merry and safe Christmas and prosperous New Year, and we can't wait to see what 2021 brings.
Discover just some of our highlights from 2020 below. If you'd like to work with us in 2021, then please get in touch with our team by completing our contact form.
Our growing team
2020 has also seen our team grow, August saw Laura James joining the team. Laura is our SEO and Marketing Manager and has a wealth of experience having worked in the industry for several years. Our team numbers continued to rise with Laura Johnson returning to Britweb in November as an additional developer supporting the Dev team.
Supporting your businesses
We've had a busy year supporting existing clients with website redesigns and digital marketing campaigns and also welcoming new clients with varying online requirements.
Notable milestones from the digital marketing team this year include a staggering 350% increase in transactions from this time last year for one of our clients and a very healthy 31.6% increase in overall revenue compared to 2019 for another.
We love results as do our clients; "many thanks for all your help this year, it's been greatly appreciated and I can see by how much effort we've put in online that we are starting to reap the rewards."
In addition to the numerous new sites our development team has launched, the team has also completed 1106 support tickets in the last 12 months! Helping businesses of all shapes and sizes ensure their website is running smoothly. Our support portal, which launched in early 2020, has meant the amount of support tickets our development team have had to work on has been reduced this year.
Britweb babies
On a more personal note, we're delighted to have welcomed some new future team members this year! Our Senior Digital Marketing Manager Sam and her husband Luke welcomed Rory on 11th September 2020, and our SEO Assistant Megan and her partner Jamie welcomed Adeline on 22nd October 2020. Welcome to the world Rory and Adeline!
A message from our Managing Director, Dan:
"2020 has undoubtedly been a challenging year both personally and professionally for everyone.
I'm extremely proud of how Britweb have helped clients both new and old adapt and cope with the ever-changing situation. We have worked with our clients to create, improve and adapt online presences to ensure they can continue to thrive.
In my mind, Britweb has succeeded this year because of the expertise, knowledge and incredible hard work the team have shown throughout. I cannot thank them enough for all of their efforts in 2020 and look forward to hitting the ground running in 2021
Merry Christmas!"
Get in touch
If you'd like to work with us next year, then please get in touch with our team today, we'd love to hear from you!
Please note: we'll be closed from 24th Dec 2020 – 4th Jan 2021, but please send an email if you need us urgently during this time.